How to Check Your CIBIL Score Online For Free?
Introduction
The CIBIL score is a number that shows how much you are eligible for credit based on your credit history. Things like CIBIL are very important for you to apply for many loans like car loan, personal loan and housing loan. There is a facility to check your CIBIL score yourself for free online. You can learn how to do it through this post.
How does CIBIL work? How is your score calculated?
CIBIL is a service that provides a score listing your credit history date through the Credit Information Bureau Limited (India) or CIB Report or Credit Information Report (CIR). It records information such as how you have repaid various types of loans and credits over a period of time. It is based on how much you have repaid in the past. Your CIBIL score will vary based on that.
What is the CIBIL Score?
Your CIBIL score ranges from 300 to 900. Your quality CIBIL score allows you to easily obtain new credit approvals. According to the Transunion CIBIL website, the CIBIL score of more than 79% of users with approved loans is above 750. You can check your CIBIL score through several agencies. Some will test this for free and give it to you. Still others will not give it to you for free.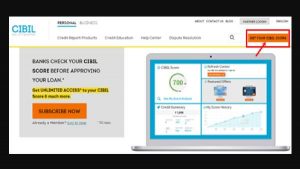 What do I need to do to get a free CIBIL score check?
However, most people will only let you know your CIBIL value after they have charged you a subscription fee. The best way to check your CIBIL score is to use the official website www.cibil.com. The important thing is that you can only get your CIBIL score report for free once a year.
Now let's see the process of how you can do this for free.
Do these to check the CIBIL score for free?
Follow this process to check your CIBIL score for free
First you need to go to the official site Cibil.com website to know your CIBIL score report.
Click the Help Center option at the bottom of the Personal tab on the home page.
Now select the Free CIBIL Score and Report option.
Next, click on the Get Your Free CIBIL Score and Report button.
Which ID numbers are entered in the ID number area?
On the next page, you will be asked to enter your personal information such as email address and generate password, name, phone number and identification number. This identification number can be your PAN, passport, voter ID, and driver's license or ration card number. Once you have entered all the information, click Accept and Continue. Next, you will be asked to select a subscription plan, but you can proceed to the next page by clicking No Thanks below.
Click the Dashboard button
The next page will ask you if you would like to connect the device you are currently using, which allows the website to provide an easy sign-in experience. You can select one of the options here and click Continue. You will see a display message saying "You have successfully enrolled", click the Go To Dashboard button.
CIBIL score
The next page will display your CIBIL score on the display. If you need to check the CIBIL score more than once a year, you will have to pay a separate fee for that service. You can also check your CIBIL score for free through other sites like CRIF, Experian.
Is it safe to do CIBIL Check through third party websites?
But, keep in mind that your score may vary between these companies. As mentioned earlier, all the third party websites and apps that can show your CIBIL score are in the Play Store, but it is always safe to use the official CIBIL website as you do not have a firm belief in their security and reliability.