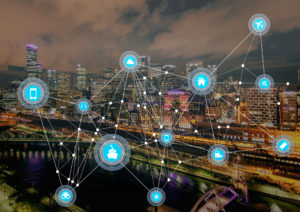 IoT – Internet of Things is a trending technology nowadays used to connect electronic devices like smartphones via internet and sensors. Its read information from central control unit on physical or cloud. Sensors generating information every second and sending it to the central unit and hence the entire place is automated.
In IoT technology many companies start doing researched and implemented in the areas like home automation, medicine, agriculture, education, transportation, energy ,many industries like manufacturing, logistics, oil and gas, transportation, energy/ services, mining and metals, aviation, and other industries etc.
IoT Theory
 "Every device has the ability to communicate with each other through networks and make smart decision based on data collected by each device"
How IoT helps to Control COVID-19
IoT is helpful for an infected patient to identify symptoms and it save lives through early detection provides better treatment and to help prevent the spread of COVID-19. IoT along with AI-sensors to help with targeted quarantines being used to help predict future outbreak areas.
IoT Applications on Covid-19
Internet-connected hospital and all medical tools and devices.
Inform the concerned medical staff during any emergency
Accurate forecasting of virus
Rapid COVID-19 screening and Smart tracing
Tele-health consultation
IoT Model – Smart Home
Home Security System
Your door, window, and smartphone are connected to the Internet. Sensor attached to the doors and windows of your house will share this information through Internet. Motion Sensors in entire house with facial recognition to recognize thieves and respond accordingly by sending alert message to authorities all the things on Internet including your smartphones.
IoT Refrigerator
Which keeps a track of all food items available in the fridge, when it notices stock inside and send data to central unit and now central unit can process and order food online.
Temperature Sensors
Maintain the temperature of home, compare in and outside weather temperature.
IoT Architecture
Sensors
Sensors collect data from the environment or object under measurement and turn it into useful data.
Devices
Actuators can also intervene to change the physical conditions that generate the data.
Gateway
Gateways and communicate that data to a server for further processing over communication protocols like MQTT. The data that comes from the sensors needs to be prepped before it enters the eventual processing stage.
Cloud
Ensure data transition between field gateways and central IoT servers.
Applications
This layer provides an interconnection between the above two hardware-related layers and business applications to render app-specific services to users.
Who can operate IoT?
The IoT is more than just a convenience for consumers. It offers new sources of data and business operating models that can boost productivity in a variety of industries.
Health Care
It helps monitor exercise, sleep and other health habits of patients in health care. It will improve the quality of telemedicine services. IoT impacts health care, Patient monitoring devices, electronic records and other smart accessories can help save lives.
Manufacturing
Data-collecting sensors embedded in factory machinery or warehouse, identification, communication, tracking etc. is improving the efficiency of manufacturing area.
Retail
Both consumers and stores can benefit from IoT. Stores, for example, might use IoT for inventory tracking or security purposes. Consumers may end up with personalized shopping experiences through data collected by sensors or cameras.
Telecommunications
The telecommunications industry will be significantly impacted by the IoT. Providers will put up wireless broadband instead of fiber networks. Therefore, it will significantly reduce costs. It the customer experience in gaming, e-commerce, and other customer-centric applications.Smart phones and other personal devices must be able to maintain a reliable connection to the Internet for the IoT to work effectively.
Transportation & Automotive
The IoT also impacts transportation on a larger scale like track their fleet using GPS solutions and roadways can be monitored via sensors to keep them as safe as possible. In Automotive improve the vehicular communications services as well. As a result, there will be benefits such as vehicle convenience and safety, avoid accidents, coordinated driving, and real-time local updates.
Agriculture
The environmental sensors in farming such as collecting data on temperature, rainfall, humidity, wind speed, pest infestation, and soil content. This data can be used to automate farming techniques, will maximize the crop yields to improve quality and quantity, minimum use of water, minimize risk and waste, pesticides, fertilizers and reduce effort required to manage crops.
Security
Motion Sensors in monitor's school, house Office, banks, and private organization with facial recognition with constant data transfer and respond accordingly by sending alert message to authorities all the things on Internet. It will be very useful to Government Administration and security agencies.
Infrastructure applications
Monitoring & controlling of infrastructure like bridges, railways, roads, traffic etc.
Environmental monitoring
IoT solutions for environmental protection, monitoring rivers, water quality, forest area etc.
Energy Monitoring
Sensors in devices such as windmills can track data and use predictive modeling to schedule downtime for more efficient energy use. Power sources can be connected & can communicate each other for better utilization of power.
IoT Future Market Reports,
The global impact of COVID-19 on Internet Of Things (IoT) market size is expected to grow from USD 150 billion in 2019 to USD 243 billion by 2021.
The global IoT platform market 2020 can note substantial gains by 2023, expanding to a size of USD 74.74 billion, evaluates Market Research Future (MRFR). The market expansion is projected to be at a rate of 28.5% from 2017 to 2023.
Conclusion
IoT has the potential to transformation of businesses approach the world by leveraging the scope of this innovation beyond connectivity. IoT help more on control of COVID-19 using existing and new technology with disease tracking, quarantines and patient care. It allows measuring physical parameters in real world and bringing it to digital world. IOT is next big revolution in the space of internet or in the life of humans that can improve efficiency of so many things around us.